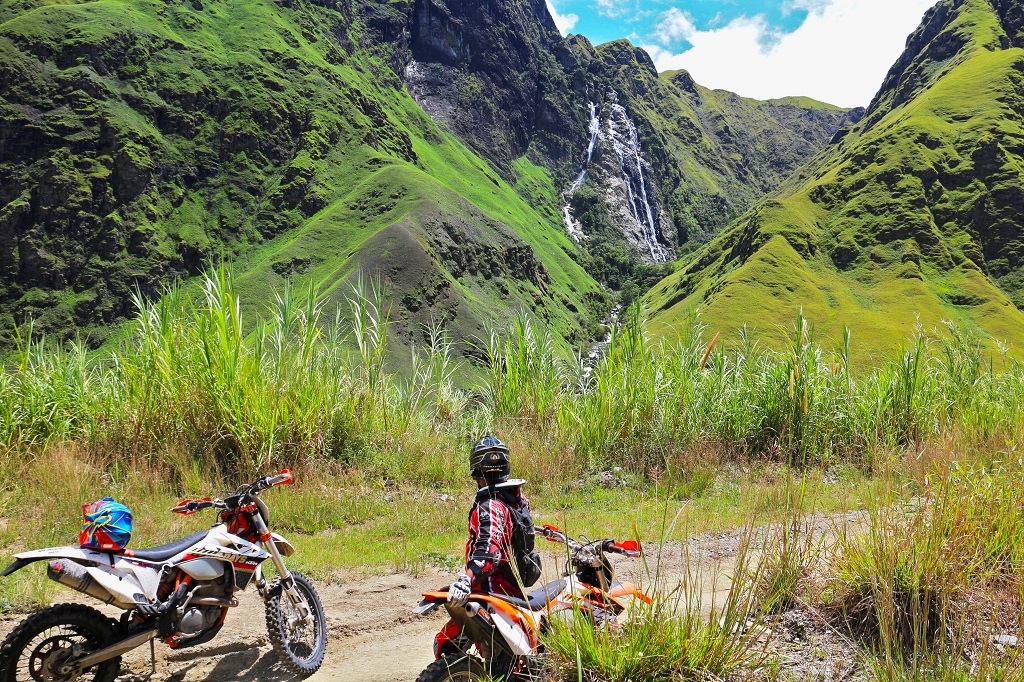 Mummified Bodies sitting under rock escarpments, masked bow & arrow wielding warriors in haunting warlike settings, fire dancers at dusk and incredible diverse cultural groups in beautiful natural dress.
These are just some of the sights every PNG day tour will encompass.
No two days riding are the same in PNG, the countryside changes from open, hot plains to cold mountains in an hour, as do the cultures & customs of the people change as rapidly. You will see cocoa & coffee bags moving on trucks daily, gold being panned on many days and visit huge dredges flown to PNG in parts on Junkers planes in the 1930's.
Coffee & Gold play a huge part in the lively hood of millions of Papua New Guineans. You get a unique chance to see these commodities and how they impact the PNG economy.
The riding itself is a joy: tarmac, 4wd roads, muddy rutted roads, open single trail and lots of river crossings. Apart from a couple of long highway sections, speeds aren't that great – PNG would have the worst road network in Asia / Pacific
You ride above clouds at close to 3,000 metres near Mt Wilhelm, while on other days the humidity at sea level will sap your energy. Every person who sees you on a bike will want a wheelie, so get used to being a superstar on your bike.
The rivers in PNG are big, fast and untamed and apt to flood in a matter of hours in the wet season (May to Sept). Knee high deep water is often impossible to cross on a bike due to the strong currents.
During Coffee Season (April to Sept) you can see coffee beans being picked, pulped, dried, processed, roasted and ground – the taste and smells are incredible when coffee is roasted as you watch. Our May & July Tours still cover all the other amazing sights, but we can never pass the opportunity to showcase PNGs rich coffee heritage (and you will be able to take home a few kgs of freshly roasted Arabica coffee beans)
Our September Tour occurs while Independence Celebrations are on. PNGs Independence & the celebration of it, plays a vital part in the identity of Papua New Guinea. You will see incredible displays of traditional dancing, headwear and clothing from every province.
Sept 16 (Independence Day) was also when the Battle of Lae ended in 1943, and our normal tour route allows us to visit the war memorial, partake in the Commerative ceremony and appreciate the sacrifices made by the 2,818 men buried in the Lae War Cemetery.
Similarly Lae was the last place where the famous aviator Amelia Earhart was last seen alive and mystery still remains as to what happened to her plane after departing Lae on 2 July 1937. We visit her very tiny memorial (which thankfully will be replaced)
For those of you who want to see many different cultures in one day but also enjoy watching world class FMX – Our October show coincides with the 2 day Morobe Cultural Show. Freestyle riders perform stunts in front of you, while during the day you can walk amongst dozens of cultural groups performing traditional dances and sing sings. Every one of the 22 provinces in PNG is represented in the show
The tour then sets off to experience the Highlands of PNG with its myriad of attractions and interactions.
Summary
PNG doesn't have the exotic nightlife that you can get on an Asian bike tour. We do however, have amazing coffee, even better beer, a highway network that's a playground for riders of all abilities and a great location, with pool and BBQ area where you will spend 4 nights (out of 11). You can also get a therapeutic massage in Lae after your days riding, or use our small gym area
While on tour, you will learn how to weave traditional PNG Bilum's (shoulder bags), maybe cook PNG food, observe the making of tribal masks or similar artifacts and partake in cultural sing sings & rituals.
The fishing day to end the trip is always a highlight, eating fresh tuna sashimi at dusk, while cruising on a 42ft boat, with beer in hand is not bad.
Your trip to PNG will highlight how much of a divide there is between the haves and the have nots – but it will also leave you with many unforgettable, vivid memories & stories to last a lifetime.
Peter Boyd / Founder Niugini Dirt Tours
Papua New Guinea "Land of the Unexpected"